J, here you go. I figure I can just keep this one going as a catch all for all of the various things I get into. I am a bit short on pictures now, but I promise I will get more up soon.
So, in somewhat chronological order, here are the things that have kept me from working on my bike until this past week.
Last fall I decided to finally look into what was wrong with my MGB so I could either sell it or start driving it. That led to lots of carb tuning and a complete rebuild of the brake system. Everything in the brakes is new or rebuilt except the steel lines. It turns out both wheel cylinders were shot, one caliper was frozen, and the power booster was leaking... needless to say the difference in stopping power is amazing. Oh, and the rotors bolt to the inside of the front hubs, so I went head and replaced the front wheel bearings while I was at it. I also rebuilt the whole clutch hydraulic system. I finally drove it sometime in late October for the first time in over 2 years. I am ashamed to say it sat that long because of a bad intake gasket that cost $5. Anyway, here is a picture of the fun.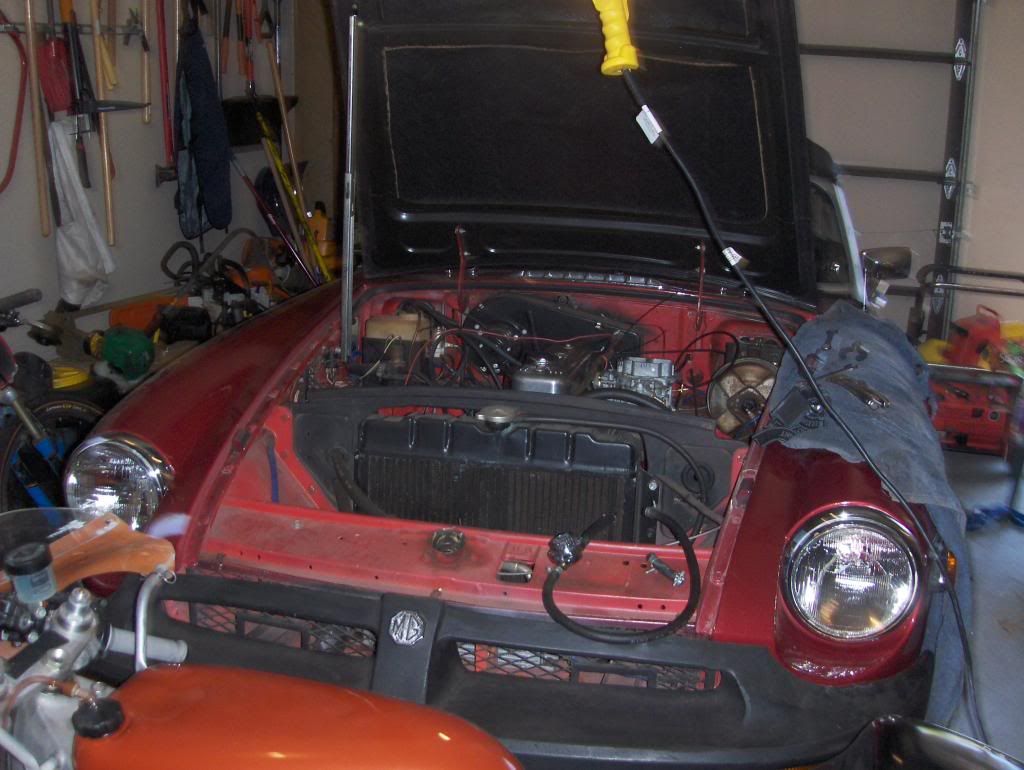 So, this summer the mower started using coolant and blowing lots of oil smoke out of the crankcase breather (for those that don't know, we mow approx 5 acres and have a 72" diesel commercial mower). I was looking into rebuilding the engine, and was about to start ordering parts when I found a used engine with 300 hours for sale, so at the beginning of December the MG went to the mower garage and the mower took the MG's spot in the attached garage and the teardown commenced. It took about 4 hours to get the engine out and then I spent about 8 more cleaning everything. I am slowly getting externals and new parts put on the new engine and hopefully will get it back together soon. Sorry, no pictures right now but I will get some. Its hard to tell it is even a mower at this point.
That whole project got slowed down a bit when I finally decided on an old Bolens garden tractor for snow clearing and garden tilling duties. I picked up a 38" snow blower and 33" tiller just north of Beaverun at thanksgiving, then a couple weeks later I picked up a tractor in Indy. It needed some TLC, so I started working it instead of the mower. I had to make a battery hold down, and I pulled the carb off to rebuild it. I quickly decided to just buy a new one, and that proved to be a good plan. It runs great now. Unfortunately my tach didn't come in before the snow came so I couldn't adjust the governor, which meant I couldn't even use it to clear the driveway.
So, in the middle of all that my friend Chris told me he found a project bike that had spun a rod bearing and needed a new engine, but it had some VERY tasty bits on it and it was super clean. So, the Friday after Christmas, we drove down to Commonwealth Cycles in Louisville in the Sprinter and picked up his pile of parts. There was one large box, the front half of a bike, a swing arm, and four plastic tubs filled with engine parts. We did some investigating and we think it needs new rods and pistons, the crank needs to be repaired, the cylinders need to be re-plated, it needs all new intake valves, and two exhaust valves. Right now the plan is to buy a used engine so he can at least ride it while we find aftermarket companies to make as many of these parts as possible. It should be a fun project to help out with. So, who can guess what kind of bike this is?
Now, on to my bike. I don't know what got into me, but this past weekend I had a whole day to work on my bikes, so I decided to get started working on getting my extra cases cut and mounted in my 93 RS chassis so I can run that Tommy Crawford pipe next year. So, I split the cases and then used a secret high tech method to cut the kickstart housing off.
I made a crude red oak aft mount just to mock everything up. With only a hand drill it didn't work out so well. It worked for a first try, but I needed something better. So Monday after work I picked up this: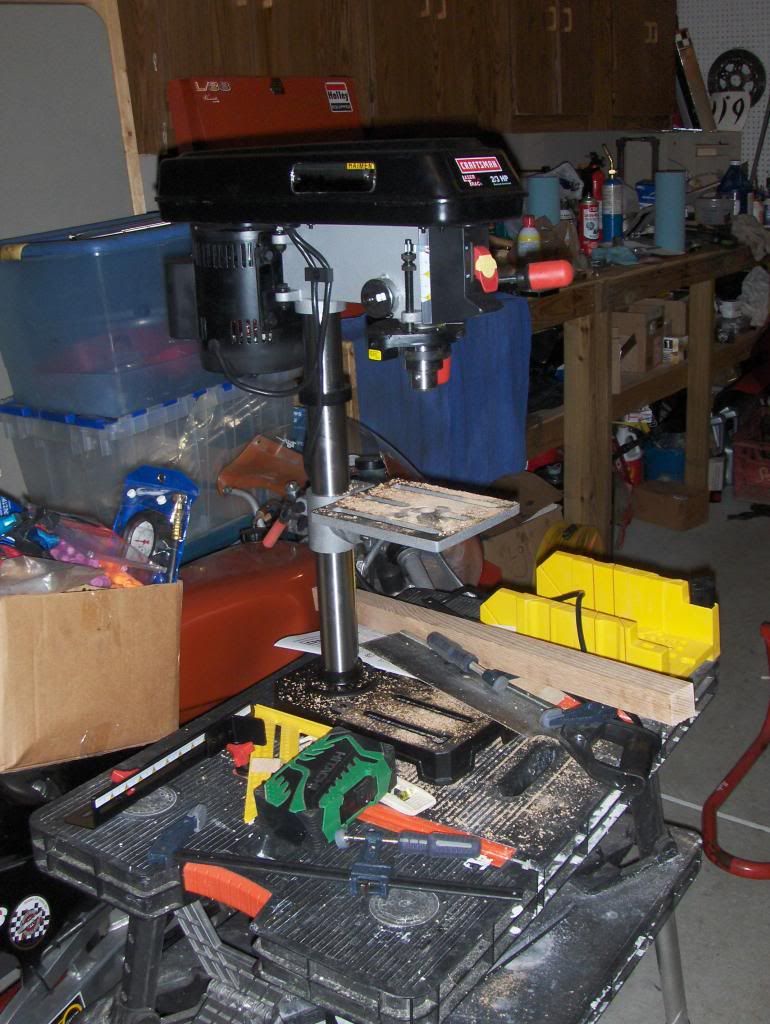 I also ordered some materials to complete the conversion: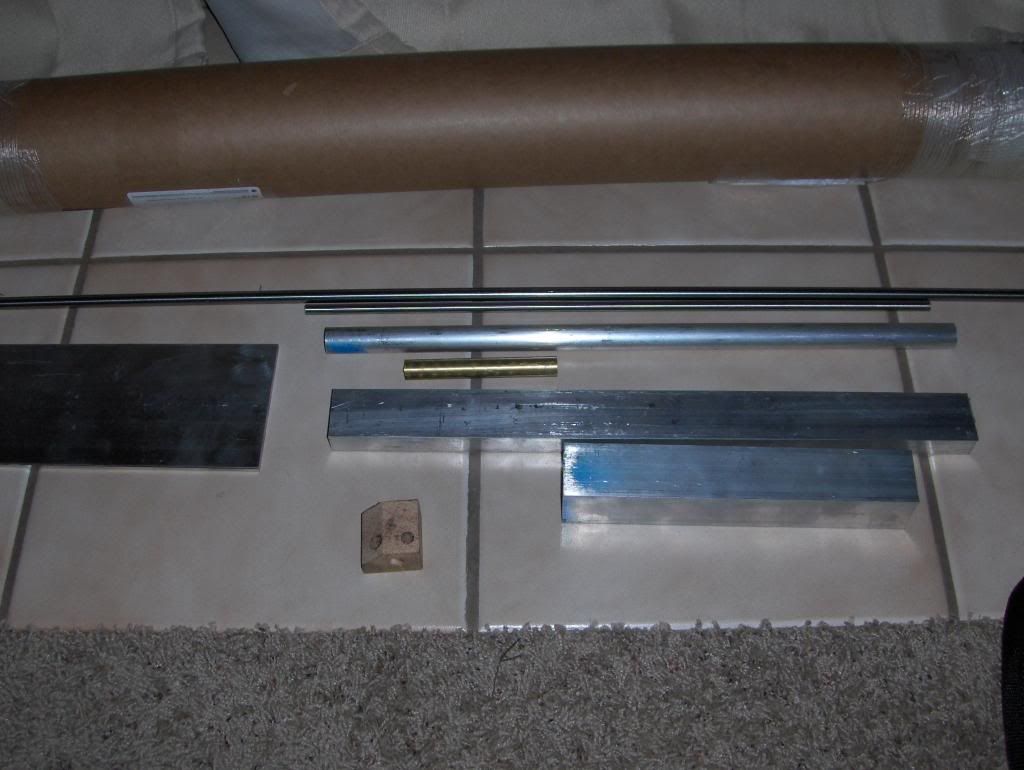 Another thing I ordered was a compound table for the drill press so I could do some light milling. That arrived yesterday and after looking at it I decided it wasn't really going to do what I wanted it to do, so I sent it back and ordered another tool that should be here in a week or two. Once I get that I should be able to whip up some mounts pretty quickly. I will post pictures when it arrives. For now I am pretty much stalled, so my extra cylinder will go out for a re-plate and I will see if I can at least get the new engine in the mower and I should have more time to post up pictures of everything.